About Us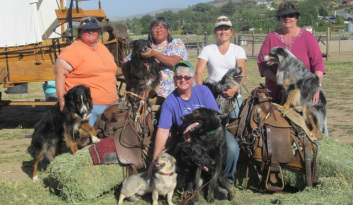 Carol McLaughlin, Marie Nagano, Liz Eddlemon, Deb Thom & Dot DeLisle
We are an affiliate club of the Australian Shepherd Club of America (ASCA). The founding membership was drawn from three counties. Today Tri-County's membership comes primarily from Los Angeles, Orange, Riverside, and San Diego Counties with a few members in San Bernardino and Ventura Counties.
Although we are primarily dedicated to the development of Australian Shepherds and their working abilities, all breeds are welcome to join the club and can fully participate in club activities. Membership in ASCA is not required. Our affiliate club holds stockdog, rally, obedience, and agility trials, as well as training clinics.
Our club is well known for its friendly and helpful members who are in all stages of development from National Champions to beginners. Members are also heavily involved in other dog-related activities such as agility, obedience, conformation, rally, therapy, etc. and freely aid fellow members (and guests) in these other areas.

---
---
Mark your Calendars!!
---
May 2-3, 2015 ASCA® Sanctioned Stockdog Two-Fur Trials, Saturday, May 2 and Sunday May 3, 2015. Judges: Brad Warren, Fiona Hibbard and Robyn Johnson-Garrett
Location: Task Farms, Leona Valley, CA. Click here for Premium. Click here for Stockdog Entry Form. Click here for Directions.
---
June 13-14, 2015 - Two ASCA® Sanctioned Obedience Trials, Saturday June 13, 2015; and Two ASCA® Sanctioned Rally Trials, Sunday, June 14,2015. No Opening date. All pre-entries must be postmarked by June 5, 2015.
Judges: Obedience - Betty Fisher; Rally - Gina Grisham. Location: Sonora High School, 401 S. Palm Avenue, La Habra, CA 90631.
Click here for Premium. Click here for ASCA Obedience Entry Form. Click here for ASCA Rally Entry Form.
---
Follow us on Facebook